I cruised down through Syracuse and across the 90. Vlad has the tickets so we agree to meet at 5pm at the Albany Street Cafe/Pub in Herkimer. I arrive at 430, park and know that I'll be awhile because Vlad's let me know he is way behind schedule. I grab a seat and order up a Magic Hat 9 (nice little apricot beer from Vermont), and a French onion soup. I really need to reiterate the beer is pretty darn good with the smell of berries.
While waiting, several other Deadheads come in. One who used to live in Montreal and Hawkesbury, (practically a neighbour) but now residing in Woodstock, NY, sees my tiedye and comes over to say hi. We chat about this iteration of the band for a bit and he let's me know he has seen them with Warren and now with John Kadlecik and he is impressed with John. Having played with the DSO for 12 years, he is pretty ready to make an attempt at being Jerry 2.0 and 15 years after Jerry's passing has probably left enough of a gap in fans minds for them to be pretty accepting of him doing Jerry's part in the new band. I'm pretty stoked by this point.
The soup is piping hot and tasty, the stuffed porkchops even tastier. The Utica Club beer I swish it down with is nice but I go back to the Magic Hat 9 for my third. It's now 6pm and the concert doors are open. No more tiedyed people are scattered around the place. At this point in time there is still no sign of Vlad and I am ticketless…waiting for a miracle.
To be continued…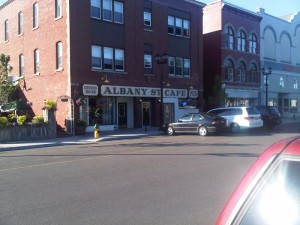 (sorry about the mess that was here previously, It looks like this message was scattered in bits and pieces through the internet.)